Slocan Valley Wildfire Resiliency Program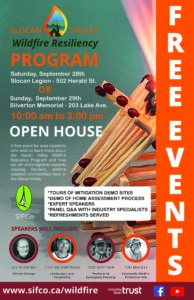 Slocan Integral Forestry Cooperative (SIFCo) is delivering the Slocan Valley Wildfire Resiliency Program (SVWRP) for the Villages of New Denver, Silverton and Slocan. The first year of the program is focussed on developing a comprehensive long term strategy towards becoming more fire resilient. At the core of the program, the seven FireSmart disciplines play an active and important role in supporting the long term goal of becoming fire adapted as communities.
This summer/fall (2019), as part of our strategic planning towards becoming fire adapted communities, we are holding day long Wildfire Resiliency Open House events within the municipalities. There will be a combined event for Silverton and New Denver, and another event for Slocan area residents. The aim of these public outreach events will be to educate and inform the local community on how their efforts to improve the safety of their home/land are linked to a wider range of wildfire reduction strategies. The dates and locations of the two Open House events are Saturday, September 28 (Slocan) and Sunday, September 29 (Silverton).  Please see the attached image for details.
For further information about the program please go to https://www.sifco.ca/wildfire or contact Amanda Murphy at wildfire@sifco.ca