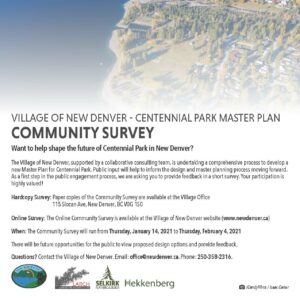 The Village of New Denver, supported by a collaborative consulting team, is undertaking a comprehensive process to develop a new Master Plan for Centennial Park. Public input will help to inform the design and master planning process moving forward. As a first step in the public engagement process, we are asking you to provide feedback through a short survey. Your participation is highly valued.
To access the survey online, please click the following link: Online Community Survey
Paper copies of the Community Survey are available at the Village Office: 115 Slocan Avenue, New Denver, BC.
The Community Survey will run from Thursday, January 14, 2021 to Thursday, February 4, 2021.
 There will be future opportunities for the public to view proposed design options and provide feedback.
Questions? Contact the Village Office. Email: office@newdenver.ca. Phone: 250-358-2316