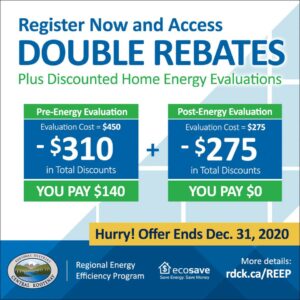 Check out some savings and promotions available to you (note that the deadline to register for the first two is December 31, 2020):
Interested in an energy evaluation to determine how efficient your home is?
The Regional District of Central Kootenay (RDCK) Regional Energy Efficiency Program (REEP) Home Renovation Program offers a low cost home evaluation program. With RDCK and BC Hydro contributions, you can have:
A pre-construction evaluation done for $140 (value of $450)
A post-construction evaluation done for $0 (value of $275)
No construction commitment is required to be eligible for the pre-construction evaluation.
Register by December 31 to receive this deal. To register, fill out the RDCK registration form HERE and email it to ecosave@nelson.ca. For more details, including FAQs, visit the RDCK website HERE, or view the poster below.
Considering efficiency upgrades?
The CleanBC Better Homes and Renovation Rebate Program rebates are doubled for a limited time to support the restart of BC's economy and help homeowners save energy.
Register for a promo code by December 31, 2020 to participate. Once received, your unique promo code can be used to apply for the Double the Rebate offer. Upgrades must be completed and invoiced by March 31, 2021.
Upgrades are available for:
Switching from natural gas, propane, or heating oil to electricity
Switching from wood heat to electricity
Upgrading your electric heating
Water Heating
Windows and Doors
Insulation
For program details visit https://betterhomesbc.ca/rebates/double-the-rebate/, including eligibility requirements.
Considering a new woodstove?
The RDCK Woodstove Exchange Program offers a limited number of top-ups to Provincial Woodstove Exchange Program rebates.
Visit the RDCK's website for more information.
Looking for new energy efficient products but on a limited income?
The Energy Conservation Assistance Program (ECAP) is available for those who rent or own their homes. If you qualify, based on your income, this program involves a home visit and offers free installation and supply of energy efficient products. Some homes may even qualify for a refrigerator and/or insulation. You can also receive coaching on how to improve your home's efficiency.
To register, fill out the RDCK registration form HERE and email it to ecosave@nelson.ca.
Send in your application by December 31, 2020 and receive a $25 grocery card at the end of your visit.
Visit the CleanBC website HERE for additional program details.
Questions?
If you have questions or would like additional information about any of these programs, please contact:
Carmen Proctor, EcoSave Program Manager
nelson.ca/ecosave or rdck.ca/reep
Tel: 250.352-8278
Suite 101, 310 Ward Street, Nelson, BC V1L 5S4