Bylaw No. 735, 2021 and Bylaw No. 736, 2021
Council Chambers – 115 Slocan Avenue, New Denver, BC
7:00 p.m. Tuesday, September 21, 2021
The Council of the Village of New Denver will hold a Public Hearing on Tuesday, September 21, 2021 at 7:00 p.m. in Council Chambers, located at 115 Slocan Avenue, and on Webex (to ensure anyone wishing to participate can attend the meeting and current Covid-19 restrictions are followed). The purpose of this public hearing is to consider the re-designation of Lots 21 though 26, Block 51, Plan NEP557, District Lot 549, located at 602 Slocan Avenue, from the current Official Community Plan designation of Environmental Reserve to Commercial and from the current zoning of E1 – Environmental Reserve, to C1 – Core Commercial. 602 Slocan Avenue is bordered to the west by Core Commercial zoning and to the East and North by Single and Two-Family Residential zoning.
The proposed bylaw amendments will allow for the development of the properties located at 602 Slocan Avenue (identified on the map below and currently housing New Denver's recycling depot), pending relocation of the adjacent Village of New Denver well and pumphouse. The purpose of the proposed amendments is to accommodate a 10-Unit Affordable Housing development. The subject properties are owned by the Village of New Denver and the proposed Affordable Housing development is an endeavour of BC Housing and the New Denver and Area Housing Society.
Below is a map of the subject properties: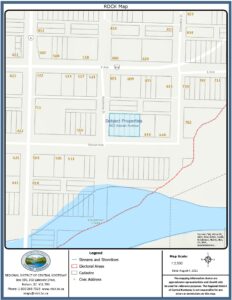 Relevant Documents:
All persons will be given an opportunity to be heard and/or present written submissions on the matter above. Please review the proposed bylaw documents and all other relevant information on this page before providing your feedback.
Comments can be submitted in writing to the Village Office (115 Slocan Avenue, New Denver) or by email to planning@newdenver.ca and must be received no later than 12:00 p.m. (noon) on Thursday, September 16, 2021.
Those interested presenting comments in person at the Public Hearing must register to attend no later than 12:00 p.m. on Thursday, September 16, 2021, by phone, email, or in person at the Village Office.
If you have any questions, please call, email, or visit the Village Office.
Contact Information:
Village of New Denver
115 Slocan Avenue
New Denver, BC  V0G 1S0
Phone: 250-358-2316
Email: planning@newdenver.ca
Originally Published August 26, 2021