The Slocan Integral Forestry Cooperative (SIFCo) is undertaking Wildland Urban Interface (WUI) fuel treatment on public property within the Village of New Denver. Work will occur between late October and early December 2022. Grant funding is supporting this initiative.
The type of forest treatment being done in the Village is considered a Type 1 Treatment. Visit SIFCo's website for more information about this type of treatment, including a video: https://www.sifco.ca/type-1.
The area that will be treated is a series of small forested areas in and around critical infrastructure and private residences. Should a wildfire enter these areas, it could lead to infrastructure damage. They are also areas that could become bridges between a wildfire and the Village, acting as wick and allowing a fire to burn toward the Village. The areas being treated vary in size from 0.1 ha to 2.5 ha and are expected to total approximately 10.3 ha.
The forest composition is second-growth hemlock, cedar, and Douglas-fir, frequently with dense understory. The work being done supports the work that residents are undertaking in Fire Smarting their own properties, creating forest landscape that reduces risk of fire spreading into and through residential areas. This treatment will greatly reduce forest fire fuels within the Village.
The public is reminded to stay clear of all operations and direct their questions to the Village office. Trails may be closed while crews work in and around these public spaces – do not use trails marked as closed or cross any barriers. For a reminder about treatment of workers, visit this link: https://newdenver.ca/treatment-of-workers/.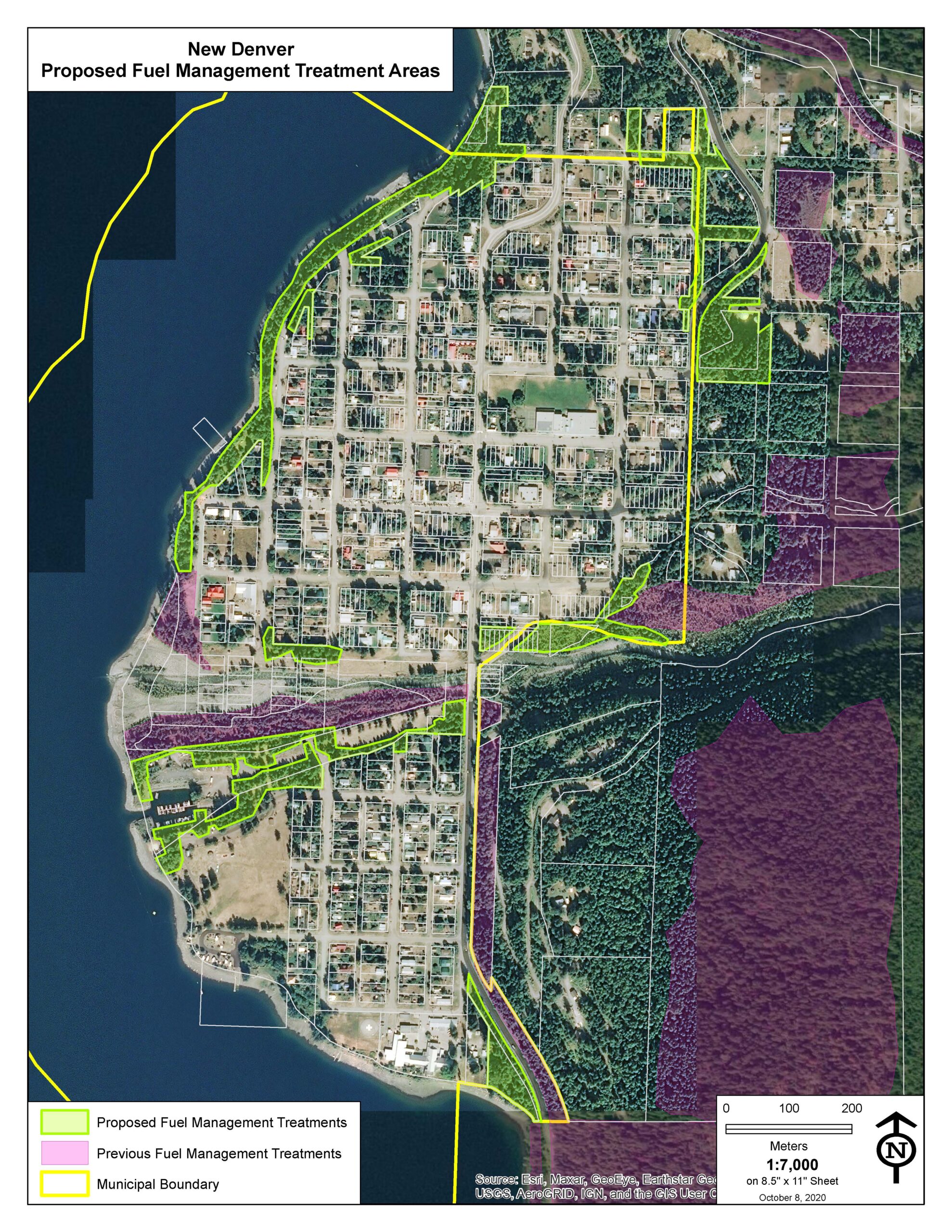 ** Note that the above drawing was completed prior to the 2021 Municipal Boundary Extension and does not reflect the current Village of New Denver municipal boundary.