The New Denver All-Wheels Park is a partnership between the North Slocan Trails Society and the Village of New Denver.
The asphalt-paved pump track portion of the park is now OPEN! Please be sure to read the safety notices posted, or take a look at the links here:
Work is still underway to complete the park. Please follow all signs on-site and do not proceed beyond construction fencing at any time.
There is no on-site parking – if you are driving to the park, please park in Centennial Park and wheel or walk your way over. At this time, the concrete washrooms in Centennial Park are open for use but please know that these washrooms are seasonal.
Don't forget your helmet – all riders are required to wear helmets when using the All-Wheels Park.
Major funders of this initiative include the Government of Canada [through the Canada Healthy Communities Initiative], the Province of BC [through the Community Economic Recovery Infrastructure Program (CERIP)], the Columbia Basin Trust [through the Outdoor Active Recreation Program], and the Village of New Denver. The Regional District of Central Kootenay [through Recreation Commission No. 6] provided a planning grant to help launch the project, a GoFundMe campaign raised significant additional funds, and the North Slocan Trails Society has committed additional funds toward the project.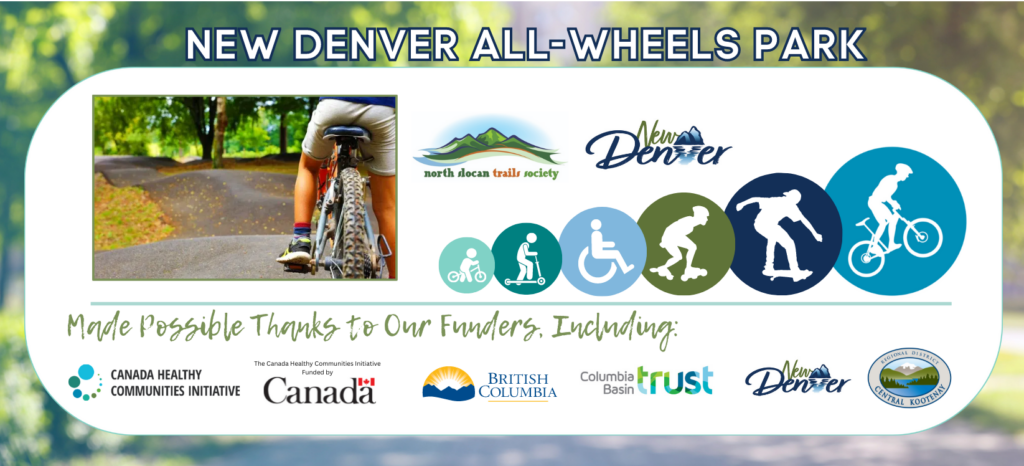 On Friday, October 14 from 3:30 p.m. – 6:30 p.m. the North Slocan Trails Society and Village of New Denver hosted a celebration at the All-Wheels Park, officially welcoming the community to come try out the new all-wheels asphalt pump track! The event was well attended and enjoyed by people of all ages. We enjoyed hot dogs and veggie dogs on the grill, some juice, other snacks, and cake! A big thank you to June McMillan volunteering to help make this event possible and to Janice Gustafson and Tiffany Laybourne for volunteering their time to set-up and serve.
Event sponsors (most of which are listed on the poster below) included Reitmeier Logging Ltd. (Cakes), New Market Foods (refreshments), Slocan Valley Chamber of Commerce (grill & gas) Valhalla Pure Outfitters New Denver (prizes), Wilds of Canada Cycle New Denver (prizes), Cycology Bikes Castlegar (prizes), Shon's Bike & Ski Nakusp (prizes), Sacred Ride Nelson (prizes), Ripping Giraffe Nelson (prizes), Mallards Source for Sports Nelson (prizes), Jesse Schpakowski Photography (prizes), Canco New Denver (event coffee, tea & fixings), and 14th Mountain Bistro (ice cream cones). Thanks to ICandyFilms for the poster photo and additional photography along the way. Event photos to come!