Help keep wildlife wild and our community safe by not feeding wildlife and managing attractants around your property. Feeding wildlife is not only dangerous, it can put wildlife and others at risk. You should also be aware that it is an offense under the BC Wildlife Act to attract dangerous animals (bears, wolves, cougars and coyotes) with unsecured attractants.
The BC Wildlife Act states that:
(1) A person must not (a) intentionally feed or attempt to feed dangerous wildlife or, (b) provide, leave or place an attractant in, on or about any land or premises with the intent of attracting dangerous wildlife.
(2) A person must not leave or place an attractant in, on or about any land or premises where there are or where there are likely to be people, in a way the attractant could (a) attract dangerous wildlife to the land or premises and be accessible to dangerous wildlife.
The Village of New Denver Bylaw # 742, Section 11 states that:
"No person shall leave wildlife attractants outdoors where dangerous wildlife may be attracted, or where there is a reasonable possibility of dangerous wildlife being attracted, unless the attractants are kept in a wildlife-resistant enclosure. There is an exception for waste that has been placed in a container and put out for pickup during the designated times on collection day(s)." Attractants include pet food, bird feeders, uncleaned BBQs, garbage that is not secured, chicken or livestock, unmanaged residential fruit trees and more. Many wildlife seek out unsecured attractants at night since that is when humans are less active and they perceive less risk. The Village has a bylaw that prohibits placing garbage out for collection prior to 6:00 am. Find more information on the bylaw here: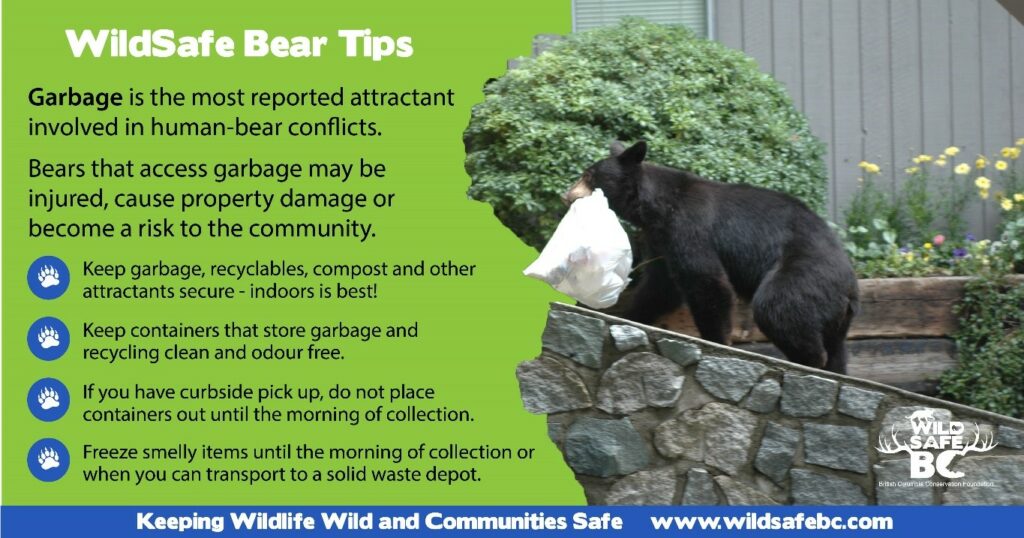 Urban Chickens
Our community supports local food production that is done in a sustainable manner that avoids drawing dangerous wildlife into our community. Poultry is an appealing food source for bears, wolves, coyotes and foxes. The eggs and feed also attract rats and mice which can spread disease and cause physical damage. Although not required, to protect your investment and avoid conflict, we recommend that all poultry have a combination of physical and electric fencing to exclude predators and rodents.
Beehives
Beehive honey and larvae are attractive, high calorie, food sources for a number of animals including bears. WildSafe BC recommends bee keepers protect their investment by installing and maintaining an electric fence around the beehives.
Managing Fruit
Fruit from trees and bushes are a predictable source of food for bears and other wildlife that can draw these animals close to our homes. Keep fruit trees picked and pruned so that they are manageable. You can also consider installing an electric fence during harvest season. Remember – feed people, not bears. You may also wish to contact the local fruit gleaning organization, Harvest Share, if you need assistance with picking fruit or electric fencing.
To learn more, visit https://wildsafebc.com/learn/grow/