Reservations and Rates
CAMPGROUND CLOSED FOR THE SEASON

Campground opens May 1 to September 30, 2021.
Please note: Reservations will not be available January 1, 2021 due to possible changes to the reservation system. For more info, go to: https://newdenver.ca/wp-admin/post.php?post=3894&action=edit.
Site Reservations and Rates
Site rates are set by the Village's current Fees and Charges Bylaw.
Reservations can only be made after January 1st of the current year. (Note: Due to upcoming changes for 2021 season, reservations will not be available on Jan. 1 –  Please see link above).
The third-party reservation online system designated by the Village shall be the only mechanism for obtaining a reservation at Centennial Municipal Campground.
Exceptions may be authorized in writing by the Village's Chief Administrative Officer or the Chief Financial Officer.
Booking fees for online reservations may apply.
Reservations must be for a minimum of three nights.
There is a maximum stay of 14 days. Longer stays may be allowed by the Campground Host, on a day-to-day basis, only if vacancies exist.
Reservation changes may result in additional fees or non-availability.
Reservations are permitted on limited Serviced sites (3-8) , limited Lakefront sites (33-41), all Center sites (46-49), and all Regular sites (11-31).
The group tenting site is only available for reservation through the Village office, with no minimum stay.
Campsite Fees: per night (inclusive of all applicable taxes) are:
Regular Site                 $25.00
Lakeside Site               $30.00
Center Site                  $30.00
Serviced Site               $30.00 (30 amps service)
Group Site                   $15.00/tent, min 4
For general queries, contact the attendant at 250-358-2361 or by email at campground@newdenver.ca.
Off-season: contact Village of New Denver email: office@newdenver.ca – Phone: 250-358-2316.
Camper Registration:
Prior to occupying a site, all campers must register with the Campground Attendant.
Only one unit (RV, trailer or tent) is permitted per site. Additional units must locate in available empty sites.   (Children under 18 may occupy a tent on the same site as their family unit, at no additional cost).
If the campground is very busy additional units may, at the discretion of the Campground Host, locate on occupied sites. Each additional unit will be charged the full price for the site.
***CAMPGROUND SITE NUMBER CHANGES***
The site numbers for the campground have been updated for 2019 and are shown on the map below. Please note that sites 3-10 are serviced (30 amps) sites.
---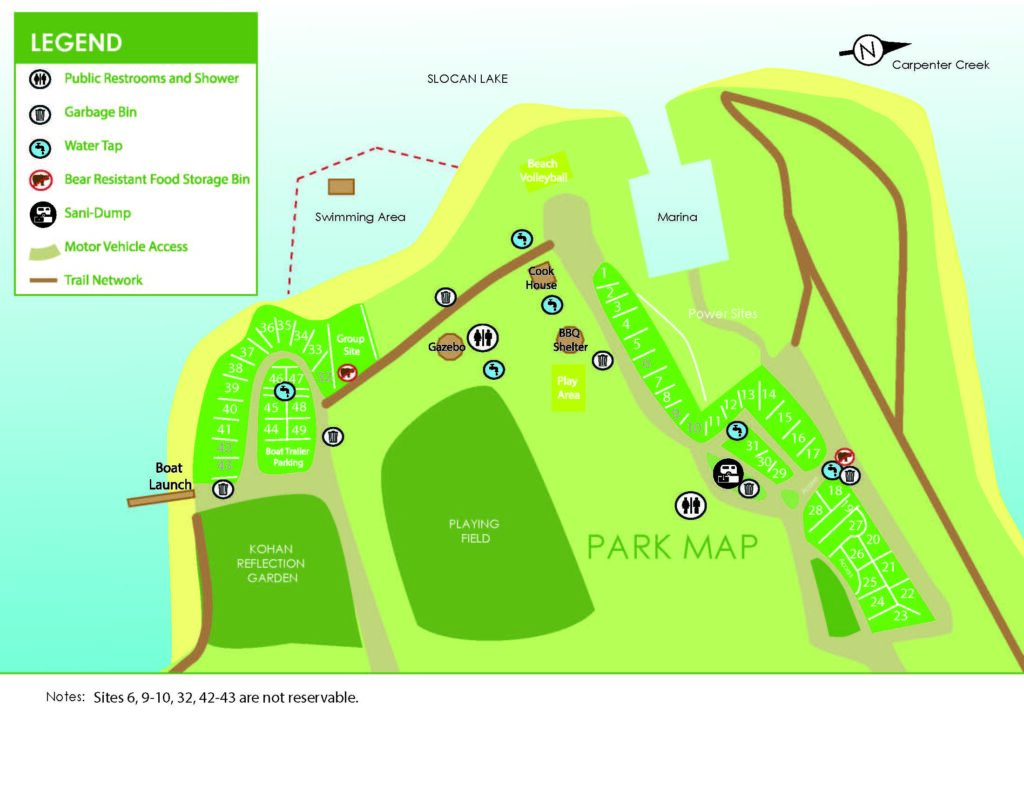 ---