Fees and Reservations
CAMPSITE FEES per night (inclusive of all applicable taxes) are:
Regular Site                 $25.00                         Group Site                   $15.00/tent, min 4
Lakeside Site               $30.00
Serviced Site                $30.00
ALL CAMPERS USING THE SANI-DUMP FACILITIES MUST PAY $5.00 PER USE
RESERVATIONS: 
In accordance with Council policy, reservations are permitted on a maximum of 4 of the serviced sites, 6 of the lakefront sites at the south end of the park, and half of the regular sites.
The group tenting site is also available for reservation by approved groups. All other sites are on a first come first serve basis.
With the exception of the group tenting site, all reservations must be for a minimum of 3 nights.
Reservations can only be made after January 1st in the applicable year.
There is a maximum stay of 14 days. Longer stays may be allowed by the Campground Host, on a day-to-day basis, only if vacancies exist.
Check-Out Time is 11:00 a.m.
—————————————————————-
2019 NOTICE: We are currently experiencing a high demand for campground reservation requests. For campground requests, please send an email to office@newdenver.ca with preferred dates, number of sites, contact information and any other relevant camping information. Your request will be reviewed in the order that they are received. Please note that at this time, we are not able to confirm your requests or reservations.  We will contact you as soon as possible regarding your request. Thank you for your cooperation.
—————————————————————-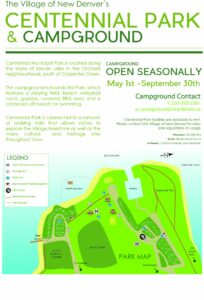 Campground Brochure