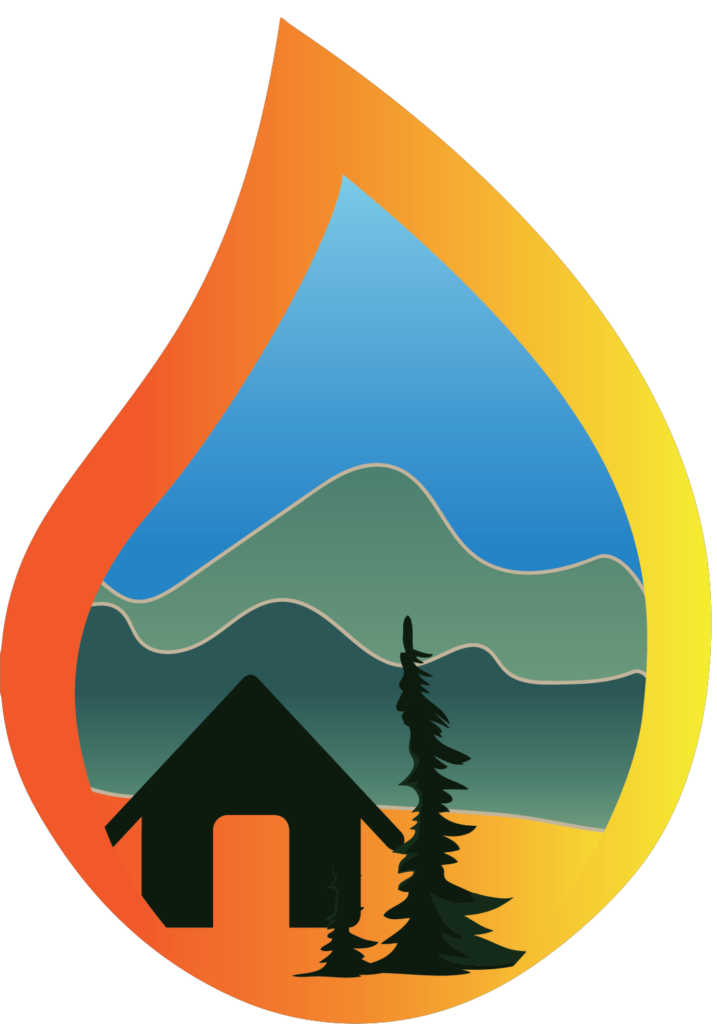 Slocan Valley Wildfire Resiliency Program – WHAT IS IT?
The Slocan Valley Wildfire Resiliency Program (SVWRP) is a wildfire planning initiative being delivered by SIFCo on behalf of the Villages of Slocan, Silverton, and New Denver. The program focuses on creating more fire resilient communities in the Slocan Valley.
The core of the program is guided by the FireSmart disciplines and plays an active role in supporting the long-term planning strategy and delivery.
Following the FireSmart disciplines to mitigate wildfire, planning strategies and services are delivered in the following areas; education and outreach, emergency planning, vegetation management, cross-training, and interagency cooperation.
Educating and working with community members is key to ensuring wildfire adapted and prepared communities.
Visit the Wildfire Resilience Program page for more details: https://www.sifco.ca/fire
Below is a helpful Wildfire Evacuation Checklist; you can also download the checklist in PDF format HERE.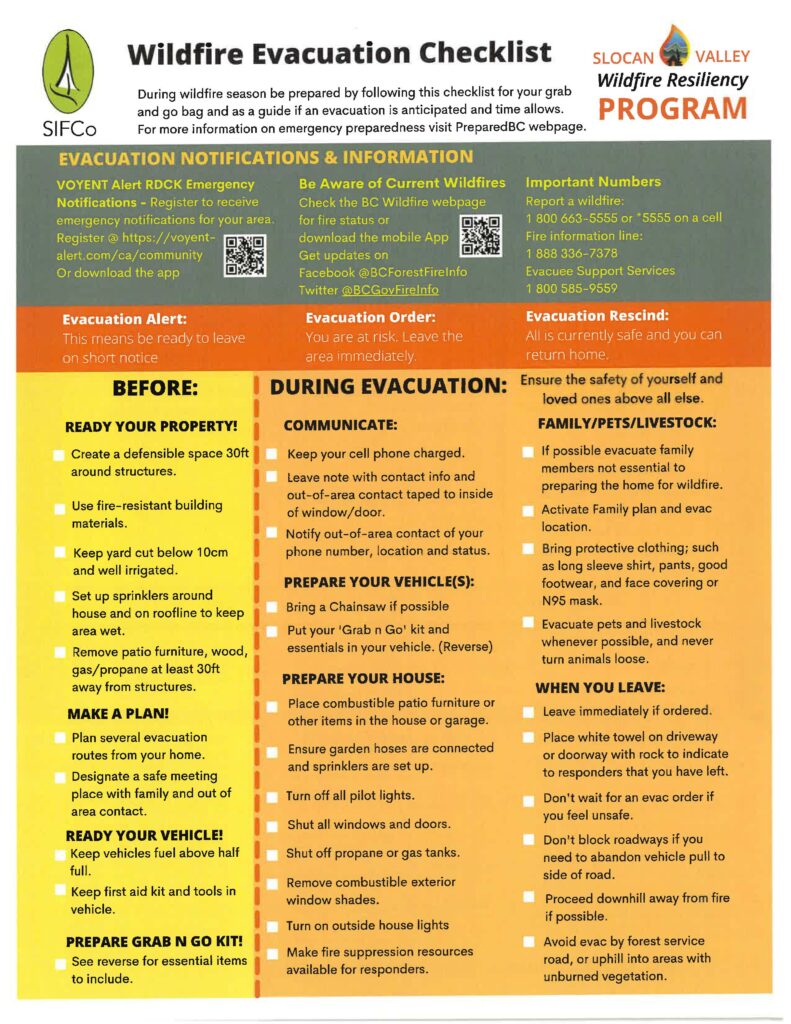 The following video, shared by FireSmart BC, demonstrates how many common building materials and landscaping can react to embers from a wildfire.
More From FireSmart BC
From BC's FireSmart website: FireSmart is living with and managing for wildfire in your area and on your property. FireSmart principles have shown that they are effective at reducing the risk to life and property in the most extreme wildfire conditions. The FireSmart program is backed by a vast amount of field, laboratory, and wildfire modeling research. Its methods help reduce the risk of losses under even the most extreme fire conditions.
Visit FireSmart BC.ca for information about FireSmart programs and resources in British Columbia. A few are highlighted below.
FireSmart BC provides a 'FireSmart Begins at Home Guide' that can be helpful for any community member, whether building a new home, renovating an existing building, or maintaining a property. Take a scroll through the website or download the PDF to review.
The FireSmart BC Landscaping Hub provides information and tips on increasing the wildfire resiliency of your property – find information about a FireSmart Plant Program, FireSmart landscaping tips & insights, a fire-resistant plant tool, and more.
Below is FireSmart BC's 'Tips To FireSmart Your Home Infographic'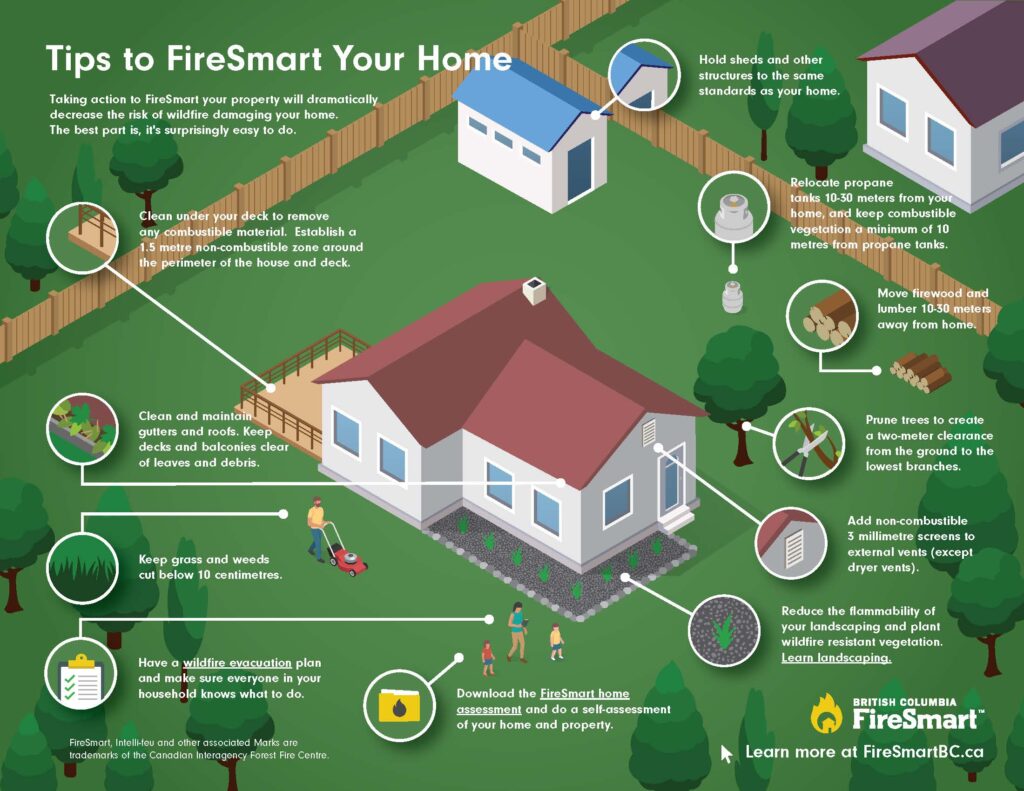 Some FireSmart Activities in New Denver
Community Recognition
Did you know that in 2020 the Village of New Denver received a FireSmart Community Protection Achievement Award and in 2022, the Orchard neighbourhood in New Denver was recognized as being a FireSmart Neighbourhood? This was through the FireSmart Canada Neighbourhood Recognition Program (FCNRP), developed to officially recognize neighbourhoods that have taken critical steps to reduce their vulnerabilities to wildfire – because FireSmart is most effective when neighbourhoods band together. Below is a video of Orchard residents working together toward wildfire mitigation and preparedness on June 15, 2023 as part of Wildfire Community Preparedness Day.
Wildfire Mitigation – Community Buildings
In 2021 & 2022, SIFCo worked with the Villages of New Denver, Slocan, and Silverton to carry out upgrades on community structures to help mitigate the risk of wildfire to these structures. In New Denver, the Community Gym was upgraded using FireSmart principles and guidelines, following an assessment by a local FireSmart representative. For more information about this project, visit www.sifco.ca/single-post/firesmart-upgrades-in-slocan-silverton-new-denver.
Wildfire Hazard Development Permit Area Guidelines
In 2022, Village of New Denver Wildfire Hazard Development Permit Area (DPA) guidelines were drafted, by the Village and the Slocan Integral Forestry Cooperative (SIFCo). These draft guidelines can be reviewed online HERE.
The Village of New Denver now wants to hear feedback from the community about the Draft Wildfire Hazard DPA Guidelines. Residents and property owners are invited to attend a drop-in style Community Open House on Wednesday, November 15, from 5:00 p.m. – 8:00 p.m., to review and discuss the draft Wildfire Hazard DPA guidelines [as well as Council's 4-year Strategic Plan & Downtown Revitalization Plan Early Directions]. Paper copies of the draft guidelines and a short survey will also be available at the open house.
Visit the Village's post about this Wildfire Hazard DPA review online at www.newdenver.ca/wildfire-hazard-dpa-review/