Meet New Denver's mayor and council members.
Leonard Casley is a longstanding member of the New Denver & Area community and has served as Mayor since 2018. Mayor Casley was born and raised in the community and have several generations of family history within the area. He comes from a family of politicians, with his grandfather serving as a Councillor and his father being both a Councillor and Mayor. He has raised a family, created and ran a business, served as a councillor for the New Denver and have been involved in numerous volunteer initiatives that serve and strengthen the community as a whole. He has served 31 years with the New Denver & Area Volunteer Fire Department – 23 years as Fire Chief.
Mayor Casley takes pride in his hometown and he is committed to community engagement and spirit, economic growth, support for young families, and maintaining and enriching health services for the Village and surrounding communities; all the while, preserving the natural atmosphere and pristine environment of the region. He also takes a deep interest and pride in the history of the area; and preserving the heritage sites in New Denver is very important to him.
John was born in Penticton, grew up in Nelson and Vancouver. After a stint at university, he travelled extensively in the Pacific, lived and worked in New Zealand for 2 years prior to returning to Simon Fraser University to complete a Biochemistry degree. He raised a family, taught chemistry, biology and geology in Vernon and Lima, Peru. Upon retirement, he spent a year sailing in the Caribbean and then moved to the Orchard in New Denver 10 years ago to build a primarily solar-powered home. John mountain bikes, kayaks, hikes and fishes in this wonderful place in the world.
He has been on the board of the Slocan Lake Garden Society (Kohan Garden), Healthy Community Society, was Citizen of the Year in 2015 and is serving his first term on Village Council.
John's vision is an affordable, vibrant and sustainable New Denver that manages our development in a way that lets us enjoy our chosen lifestyle while also ensuring that it will be shared by future generations.
Vern Gustafson was born and raised in New Denver. His family are long time residents of the Slocan Valley and Kootenay Lake region. Vern is a graduate of Selkirk College's Resources Technology program. After graduation, he moved to Golden for a three-month job and stayed for 30 years.
He and his wife Janice wanted to move home to New Denver, so they built and operated New Market Foods, and recently sold the business after 10 years of ownership. Now that he is retired, Vern hopes to get back into outdoor recreation. Vern and his wife Janice have two grown children and two grandchildren that live in Golden and Whitehorse.
Vern is an active volunteer in CASARA (Civil Air Search and Rescue Association), as well as a licenced private pilot.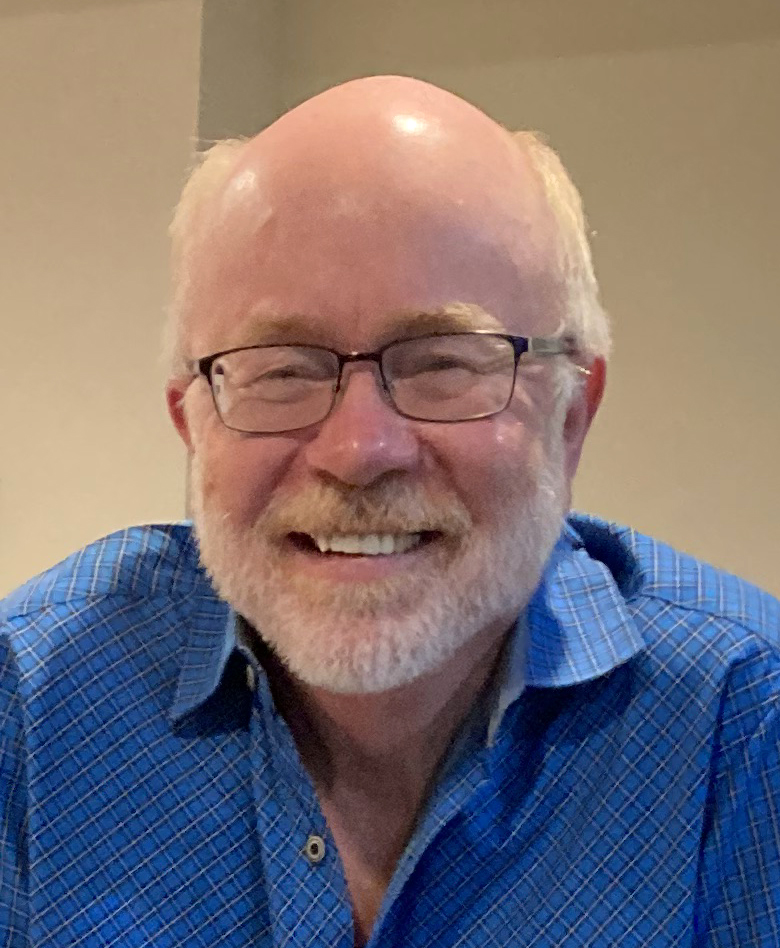 Colin Moss grew up in Vernon in the Okanagan Valley and spent 30 years in the printing trade before moving to New Denver in 2007 with his wife Janice.
Janice found work in the local health centre clinic and they also started a landscape and property management business where Colin still works part time. They enjoy the outdoors and have spent many hours here hiking, kayaking, golfing, skiing and snowshoeing.
Colin has been an active volunteer in the community since moving here and is currently a hospice volunteer and local Chamber of Commerce board member where he serves as its membership and health committee chairs. He is also the vice chair of the BC Rural Health network and currently is its membership chair. The BCRHN is a BC-wide advocacy group promoting healthcare improvements for rural BC residents.
Colin is New Denver's representative on the Regional District of Central Kootenay board and as a result serves on their Resource Recovery committees and also on the West Kootenay Boundary Regional Hospital District board.
Councillor Gerald Wagner is serving his first term on the New Denver council. 
Hailing from Swift Current, Saskatchewan, Gerald moved to the US out of high school for sports and higher education. After seven years, he relocated to Australia, working and coaching for 11 years before heading briefly back to Canada. Living and teaching in China, Gerald met his future wife, Abi, and returned to her home in England for five years.
After many years living and working abroad, Gerald & Abi moved back to Canada in 2010 and opened an adventure hostel in a renovated strip bar in the mountain town of Golden, BC! Drawn to the West Kootenays, they made the move to New Denver in 2018, buying the quirky dome cabins and rebranding as the Adventure Domes.
Gerald is a strong advocate for an active lifestyle, including access to recreation and the great outdoors for all members of the community. He is vice-president of the North Slocan Trails Society and frequently volunteers out on the trails. He is an enthusiastic split boarder, skier, mountain biker and kayaker and is passionate about staying fit and healthy.
Gerald serves on the board of the Arrow Slocan Tourism Association helping to promote sustainable tourism in the region; he also represents council on the Recreation 6 Commission and the Rosebery Parkland and Trail Commission.
Gerald stood for council because he wanted to use his skills and energy to help people, and to become more involved in an amazing community that instantly felt like home. He is a firm believer that the Slocan Lake is the fountain of youth!