Boundary Extension
The Village of New Denver is proposing a boundary extension to include new properties within Village boundaries. This mostly affects the area known as Denver Siding, properties between the Village and Denver Siding, and properties outside of the Village already connected to the Village's water system.
The purpose of this proposed boundary extension is to provide Denver Siding water system customers with a safe supply of drinking water. Grant funds have been received by the Village of New Denver to improve the Denver Siding water distribution system in the event of a boundary extension taking place.
On this proposal, please click the document and/or maps below:
Alternative Approval Process
A copy of the Village's Alternative Approval Process (AAP) Notice, as posted in the Valley Voice, is available for viewing online HERE 
The first notice was printed on January 28, 2021 and the second will be printed on February 11, 2021.  The deadline for submitting Elector Response Forms is Monday, March 15, 2021 at 4:00 PM.
Electoral Response Forms are available online HERE
Additional information is available online HERE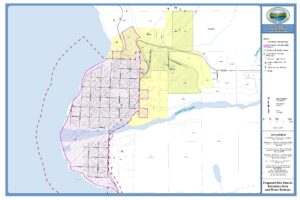 Water Systems Map
Ownership Type Map
Spring 2020 Proposed Boundary Extension Information Package For Boundary Extension Area Property Owners