Archive for Press Release
Dec. 7/2020 – The Village of New Denver has just released a new historical book titled Kyowakai: Memory and Healing in New Denver—Nikkei Internment Memorial Centre, written by local author Anne Champagne and designed by John Endo Greenaway. The book tells the story of Japanese Canadian internment in New Denver, the creation of the Nikkei Internment Memorial Centre (NIMC) by the Kyowakai Society, and the healing it inspired. The 80-page, soft-covered book features colour as well as black-and-white photographs, including images from the NIMC collection, Nikkei National Museum, Library and Archives Canada and various private collections. Read more.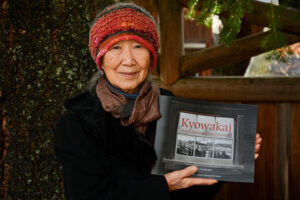 Former Kyowakai Society Member Tsuneko Kokubo
Destination BC has released the Feature Story, "Japanese Canadian Historic Sites: Journeys of Home" on their consumer trip-planning website: https://www.hellobc.com/stories/japanese-canadian-historic-sites-in-bc-journeys-of-home/. This article tells the story of Japanese Canadians from the family story of a third generation Japanese Canadian, Laura Saimoto, whose family together with 22,000 Japanese Canadians, were interned from 1942-49 in Internment Camps in the interior of BC. It outlines easily accessible travel routes and describes where to discover and experience Japanese Canadian Historic sites throughout our beautiful province.
When the Second World War broke out, Japanese Canadians were considered a 'security threat' and interned in camps beyond a 100 mile zone from the west coast, stripped of their civil rights and dispossessed of all they owned – their houses, cars, boats, properties and businesses. This summer, with racial tensions rising all over the world, travel our backyard as an outdoor classroom to experience where this history happened and ways racism can so profoundly change the course of a community's history. At the same time, be inspired by how, with amazing strength and resilience, the community rose above adversity to create a 'sense of home' for their children.
Japanese Canadian Historic Sites from all parts.
Japanese Canadian Historic Sites from all parts of BC invite you to visit and learn Japanese Canadian history as an integral part of British Columbia's history this summer.
The Village is proposing a boundary extension to include new properties within municipal boundaries. This primarily affects Denver Siding, properties between the Village and Denver Siding, and properties outside of the Village already connected to the Village's water system.
Owners of property within the proposed boundary extension area have been mailed an information package. Property owners and tenants within the boundary extension area are asked to submit their responses to the Village Office by Monday, June 15.
Village residents will be consulted following an initial review by the Province, if enough support is received at this time from residents within the boundary extension area. To review the proposal, visit our website.
WildSafeBC is currently hiring for a New Denver Community Coordinator. This position starts May 10 to November 30, 2020. The deadline for application is April 6th, 2020 – 4:00 pm PT. For a complete job description and how to apply, please go to: http://www.bccf.com/opportunities/employment.
The Village of New Denver continues to work closely with the Provincial government, Interior Health Authority and other partner agencies to monitor the COVID-19 situation and respond appropriately.
To protect our staff and community, we are asking residents to self-monitor their health and to apply a low threshold when feeling unwell to stay home until they are better. If you have recently travelled outside of Canada, make sure you have followed the recommendations of self isolation for 14 days. If you are experiencing flu-like symptoms associated with the coronavirus (COVID-19)—fever, coughing, and shortness of breath—please stay home. If you have a compromised immune system or believe you might be vulnerable to infection, please consider whether you should limit your contact with others. Please contact the office by phone or email first so we can determine how we can assist you.
General guidelines
Proper hygiene can help reduce the risk of infection or spreading infection to others:
Wash your hands often with soap and water for at least 20 seconds, especially after using the washroom and when preparing food: https://www.healthlinkbc.ca/healthlinkbc-files/hand-washing
Use alcohol-based hand sanitizer if soap and water are not available
When coughing or sneezing cough or sneeze into a tissue or the bend of your arm, not your hand
Dispose of any tissues you have used as soon as possible in a lined waste basket and wash your hands afterwards
Avoid touching your eyes, nose, or mouth with unwashed hands
Elbow or toe tap instead of shaking hands
Consider social distancing (1m personal space)
Limit contact with anyone who is unwell
Learn more about protecting yourself and your family members from the following resources:
If you and your family members develop symptoms, call your health‐care provider or 8‐1‐1 (BC Health Link) to discuss any need for testing and follow-up.
The Columbia Basin Trust Community Initiatives and Affected Areas Programs (CIP/AAP) proposals are now being accepted until 4:30 pm on Friday, February 28, 2020. The programs support local projects that provide additional value to Basin communities, and that benefit the broad community and public good.
Organizations are reminded that the 2020 proposals must be submitted through the Trust's online application system. Copies of application guides, information sheets and worksheets are available at the Village Office or find them all online by visiting the RDCK website.

To ensure public safety, please give plenty of space to snow plowing equipment.   Residents are asked not to approach the operators while they are working – please direct any questions regarding snow removal to the Village Office instead.
What is our vision for the future of the Village of New Denver? Join us on November 19 and share your ideas as we work towards our 100% renewable energy goals.
New Denver, Silverton, Slocan, Nelson, Rossland and the Regional District of Central Kootenay (RDCK) are developing a 100% Renewable Energy Plan to build on the region's clean energy achievements and work toward a carbon neutral future with any remaining energy use coming from renewable sources. The goal is to have healthier and safer communities, stronger economies with better careers, and cleaner energy use locally.
On November 19, residents can learn more and give their input on how we can be successful in transitioning to 100% renewable energy while building strong community.
Topics such as housing density, deforestation, transportation and community planning are examples that illustrate how the community's priorities can affect the action plan.
You're invited to join the public renewable energy transition workshop November 19 at 7:00 p.m. at the Silverton Memorial Hall to learn more and provide your input into the West Kootenay 100% Renewable Energy Plan.
Local non-profit West Kootenay EcoSociety is developing the regional renewable energy plan and facilitating the workshop. Refreshments will be provided.
For further information, please click on the poster below or contact the Village Office.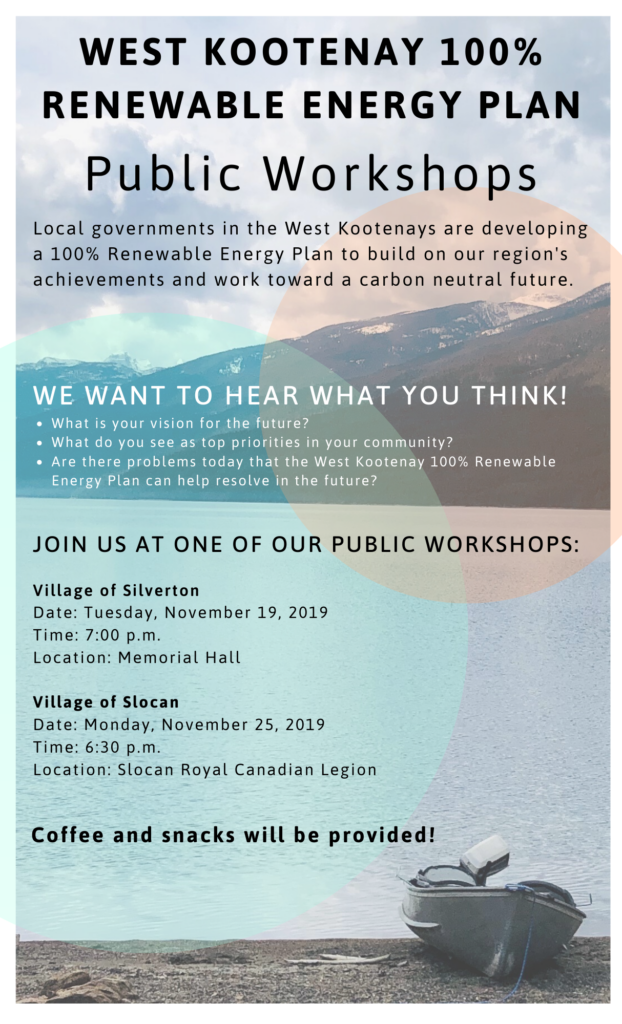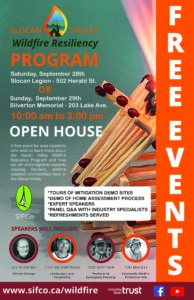 Slocan Integral Forestry Cooperative (SIFCo) is delivering the Slocan Valley Wildfire Resiliency Program (SVWRP) for the Villages of New Denver, Silverton and Slocan. The first year of the program is focussed on developing a comprehensive long term strategy towards becoming more fire resilient. At the core of the program, the seven FireSmart disciplines play an active and important role in supporting the long term goal of becoming fire adapted as communities.
This summer/fall (2019), as part of our strategic planning towards becoming fire adapted communities, we are holding day long Wildfire Resiliency Open House events within the municipalities. There will be a combined event for Silverton and New Denver, and another event for Slocan area residents. The aim of these public outreach events will be to educate and inform the local community on how their efforts to improve the safety of their home/land are linked to a wider range of wildfire reduction strategies. The dates and locations of the two Open House events are Saturday, September 28 (Slocan) and Sunday, September 29 (Silverton).  Please see the attached image for details.
For further information about the program please go to https://www.sifco.ca/wildfire or contact Amanda Murphy at wildfire@sifco.ca
Residents of the Village of New Denver are hereby advised that the Regular Council Meeting schedule has been updated. The following is a revised schedule for the remainder of 2019:
June 25
July 9
August 13
September 10
October 8 & 22
November 12 & 26
December 10